Local Since 1997!
The Vander Jagt family purchased this store in 1997. The Vander Jagt family owns stores in Montana: in Browning, Great Falls (2), Bozeman, Billings and Forsyth. Van's Thriftway is part of Associated Food Stores retail owned wholesaler that operates distribution centers in Helena, Billings and Salt Lake City.
Paula Vanader Jagt won the 2011 Kay McKenna Community Service award for volunteer work and donations to community non-profit groups! Paula is a great representation of the high standards we hold.
Renowned Bakery
Helena has long been buzzing about how great our bakery is, have you caught the aroma when you walk past? Mike Shirella and his staff pride themselves on creating bakery "works of art" from scratch. Wedding cakes, cakes for all occasions, pies, donuts, rolls, crusted breads, pumpkin chocolate chip cookies, cream cheese bars, brownies all to die for. Do not forget the largest selection of fresh made cookies in town. When you have your next party, family gathering or work event, think of us. We will get you squared away with some incredible comfort food!
Ward's Fresh Produce
Try our made fresh daily Salsa (it's a secret recipe). These days, you are probably more health conscious than ever before. With goals of eating right and staying fit, you need look no further for the best, farm-fresh produce. Ward Sieber our Produce Manager has gone to great lengths to carry only the finest fruits and vegetables and to deliver them to you in the same excellent condition as when they were picked.
Meat From a Friend
Our customers have continually selected Van's Meat Department as the "best in town" over the years. Mark Reardon and his very friendly staff not only keep a great meat case but will bend over backward to help you with custom cuts for you and any special events you are preparing for. Van's Meat offers a butcher block of beef, seafood and their own ground sausage. We carry a full line of Montana "Red Neck" products, Montana beef and Montana pork products. Our fresh "ground daily burger" as well as all of our meat products will satisfy even the most discriminating tastes and budgets. Our in-store butchers are always there to provide assistance unavailable anywhere else.
Delectable Deli
Jeanie and her team offer custom sliced meats and cheeses to homemade specialty salads and hot mealtime solutions we have just what you need. For large gatherings, we offer meat, cheese, vegetable, and fruit trays as well as the ability to cater all of your special events. So, relax and enjoy your day, we can take care of preparing the food.
It Pays to Stay Local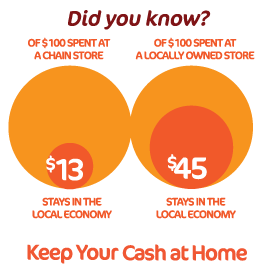 Think about it: would you want $13 or $45? For most people, that is a "no-brainer." Still, we have people shopping at the big box stores taking no thought for how it affects the community feel of our neighborhood.